Gluten Free Southern Chocolate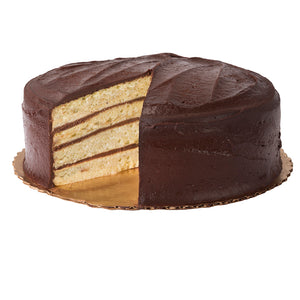 Gluten Free Southern Chocolate
Regular price $90.00 Sale
Four layers of our gluten free yellow cake are filled with our creamy chocolate ganache and iced with our traditional Southern Fudge. This Southern classic will leave you weak in the knees! 
Gluten free but made in a facility that uses wheat.  
9" Round 
Serves 14-20
• Shipped in a cooler with dry ice.
• 9" round that serves between 14-20 people.
• Can freeze and refreeze for up to 6 months.
• Nut Free.
Ingredients: cane sugar, modified tapioca starch, rice flour, potato starch, cornstarch, emulsifier (rice starch, polyglycerol esters of fatty acids, mono- and diglycerides), baking powder (sodium acid pyrophosphate, baking soda, cornstarch, monocalcium phosphate), natural vanilla flavor, salt, xanthan gum., unsweetened chocolate, cocoa butter, soy lecithin (an emulsifier), vanillin (artificial flavor)., heavy cream (heavy cream, skim milk, carrageenan), eggs, powdered sugar, buttermilk, butter, unsweetened chocolate., butter (cream, salt), canola oil, evaporated milk (milk, dipotassium phosphate, carrageenan, vitamin a palmitate), butter (cream, natural flavor), light corn syrup (corn syrup, salt, vanilla), vanilla extract (water, alcohol (35%), sugar, vanilla bean extractives)
Storage Instructions: Upon arrival, remove cake from cooler and place in freezer, red tin and all. Wrapped well, this cake may be frozen and refrozen for up to six months. We recommend unwrapping the cake while still frozen due to its delicate icing. To refreeze your cake, wrap it well in plastic wrap, slip it into an air-tight Ziploc bag, and pop it in the freezer!

Thawing Instructions: To thaw, unwrap the cake while still frozen and place the cake in your refrigerator overnight or on the counter for 3-4 hours. Refrigeration may cause the texture of the icing to change.
• We ship Monday through Thursday of each week with UPS.
• Orders cannot be shipped to PO boxes.